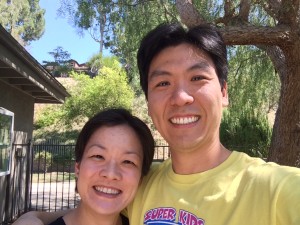 Susan Choo, M.D.
Board certified pediatrician
Dr. Choo was born and raised in southern California, spending most of her childhood in Tustin.  She received what she views as a superior education at UC Berkeley (also class of 2000, go Bears! Stanford who?) majoring in Molecular & Cell Biology with a minor in Spanish.  She attended medical school at UC San Diego, graduating in 2005.  She met her husband Lawrence during medical school, and returned with him to Orange County after graduation.
Dr. Choo completed her pediatric residency education at Children's Hospital of Orange County (CHOC), training alongside Dr. Lee.  Working together on many clinical rotations and learning from some of the same mentors, Dr. Choo and Dr. Lee share many of the same values and philosophies when it comes to medical care and health promotion.  Upon completion of residency, she was asked to remain at CHOC as Chief Resident, where she was responsible for leading over 50 new interns and residents.  She then joined the primary care pediatrics clinic at CHOC, supervising residents-in-training and medical students.  She has also worked at other private practice offices throughout Orange County.
In 2009, Dr. Choo was selected to be Assistant Program Director for the CHOC Pediatric Residency Program, and held that position until 2011 when both the CHOC and UC Irvine residency programs merged.  She then assumed duties as the Associate Program Director for the joint UCI-CHOC Residency Program – a new venture for both institutions that involved creation of a brand new residency program with 90 residents.  She held this position from 2011 to 2015.  After several years of teaching and administrative duties, Dr. Choo is so happy to return her focus to providing patient care directly to families and children.
Dr. Choo brings a wealth of experience and knowledge from her time as a clinician in CHOC's high volume patient population and from educating resident physicians.  She lives with her husband in Orange County along with their two lovely and elderly rescue dogs.